360 Degrees Of Exposure!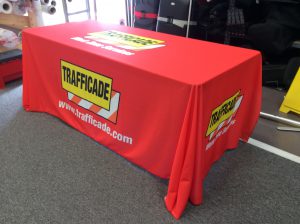 Our dye-sub table covers are printed in full-color over the entire surface so you can maximize your brand exposure and attention-getting design. While many of our clients use their table covers in a trade show booth where only one side of the table is seen by the attendees, I recommend that they include the logo on both sides. A logo or image can even be carefully placed on the ends of the table cover, too! This way, in an event situation, your logo or message can be viewed from all sides of the table. Having the logo on the front and back is also handy if one side of the table cover gets soiled on-site, you can simply turn the table cover around and use the clean side!
Keeping It Clean!

I am a mother, and white table covers are a little frightening! Many of our clients have logos that are generally viewed on white backgrounds, but when you want to put your logo on a table cover, solid white on the top of the table can show dirt easily. If your logo must be over a white background, I suggest using a design that features a white area or strip behind the logo which appears only on the sides of the table cover. Use your complimentary colors on the top of the table cover and around the logo area where the table cover meets the floor. This presents your logo consistently but is a great way to minimize the appearance of any dirt at the bottom edge and on the top of your cover.
Racing Stripes!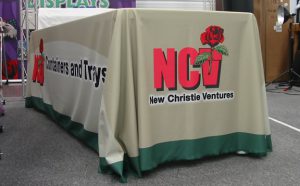 When exhibiting, the job of your booth design is to get you noticed. Sometimes table covers are seen as pretty unexciting but necessary part of this. Well, I say rev it up with "racing stripes!" I have suggested using this type of design when clients do not have much in the way of an existing design scheme that they have to match. Perhaps you only have a logo, but no other background or design elements that are used throughout your marketing materials. To spice up your table cover, simply use one of the colors from your logo to add a 4-6" stripe around the bottom of the cover to help attract and focus more attention on your brand!
Shop our full line of table covers →
Interested in learning more?
Give us a call at 800.697.4670 and speak to a real person, with real experience and knowledge, who can help you with your project.
We would love to hear your voice, but you can also reach us by email at info@beautifuldisplays.com or fill out our information request form.
Your information will not be shared with any third parties.