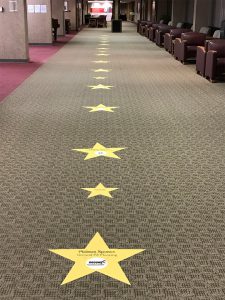 It's always a pleasure working with local businesses and this project came from the Carbondale Chamber of Commerce. They were looking for a unique way to recognize their banquet sponsors by displaying the sponsor logos in stars to fit the banquet theme and placing them on the floor was a sure-fire way to get the attention they deserved.
The Chamber needed their custom floor graphics to be durable, stay in place and easy to install and remove. Our "Pano Walk and Wall" adhesive floor graphics were the perfect fit so we got to work printing their star design and cutting them out with our CNC.
"The stars worked so well! We were very pleased with the ease of installation and durability. It was a much better option than easels and we will probably do something similar next year.

Thank you, again, for everything!"

— Leanne, Carbondale Chamber of Commerce
Adhesive floor graphics are very versatile and have many applications including…
Retail promotional graphics & product positioning
Branding
Event graphics
Trade show flooring
Way-finding & path markers
Interior design
Fun floor art
Advertising
Wholesale decal & sticker merchandise
WALLS!
We offer several different materials to allow application of adhesive floor graphics to hard flooring, carpet, concrete and other common surfaces.
Learn more about Adhesive Floor Graphics →
More custom printed flooring and floor graphics solutions →
Interested in learning more?
Give us a call at 800.697.4670 and speak to a real person, with real experience and knowledge, who can help you with your project.
We would love to hear your voice, but you can also reach us by email at info@beautifuldisplays.com or fill out our information request form.
Your information will not be shared with any third parties.