Need a Lyft? Get a Lyft!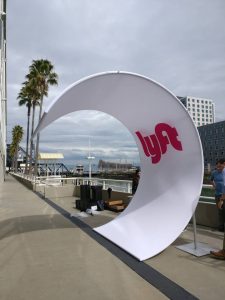 Lyft and Superfly came to us for an activation event structure to promote their company's ride services at street level with attention getting, shade bearing structures. They have several markets across the nation that host and manage their own events but wanted to keep a consistent, attractive presentation.
These large tensile fabric structures provide branding and awareness to their brand activation events. The structure that Lyft wanted was not an off the shelf unit so we worked with their team to create the design as needed for their purposes.
The Lyft event arch is a unique shape made with aluminum tube frame and custom printed fabric pillow case graphic, a modern structure design that is lighter and easier to set up than hard sided structures. We produced an initial unit for Lyft's national marketing team and it has been approved for coast to coast deployment.
Thank you, Lyft!
Click here to shop our tension fabric structures or call for custom designed displays and exhibits.
Interested in learning more?
Give us a call at 800.697.4670 and speak to a real person, with real experience and knowledge, who can help you with your project.
We would love to hear your voice, but you can also reach us by email at info@beautifuldisplays.com or fill out our information request form.
Your information will not be shared with any third parties.