An important part to creating and organizing events is design and graphics. Your event displays serve many important functions including displaying sponsors, branding and wayfinding.
To make your job simpler, we've put together a list of five displays that are sure to impress your guests.
All of these displays feature vivid, high resolution tension fabric graphics and frames that are easy to (dis)assemble, economical to ship, lightweight and portable.
1 – Backwalls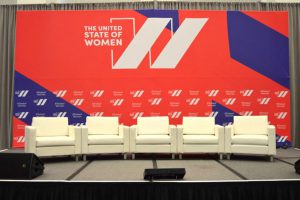 Press and media events often require a back drop for photo, which is a great opportunity to acquire profitable sponsorships! Walls are frequently used as dividers for large spaces and can be built in unique shapes, sizes and curves and printed on one or both sides.
Click here to shop event backwalls →
2 – Counters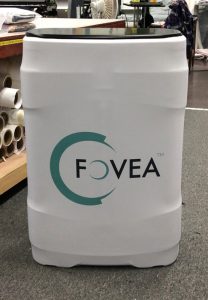 Counters are small and offer a great place to display branding on the outside as well as present literature and other materials. Event presenters also find them useful as podiums.
Click here to shop counters →
3 – Fabric Structures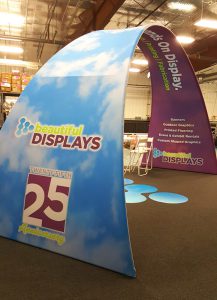 Fabric structures are a unique way to add excitement and eye candy to your event and they come in tons of shapes and sizes. The most popular displays we have requests for include waves, arches and towers. Waves are dynamic and creative. Arches create grand entrances or highlight an important area of a large event. Towers save floor space by going vertical and work great in smaller events in addition to working well to mark areas and add color at large events.
Click here to shop fabric event structures →
4 – Hanging Signs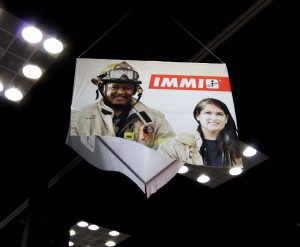 Hanging signs really make an impression and command attention. They add verticality and free up floor space in event venues with high ceiling heights. These signs come in lots of shapes and sizes and are perfect for displaying your event logo or sponsors. We also create custom sized hanging signs to fit any need.
Click here to shop fabric hanging signs →
5 – Banners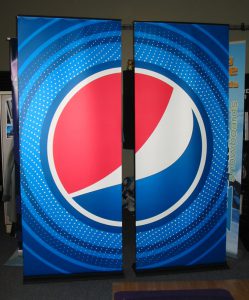 One of the simplest and most versatile custom displays is a fabric banner. Use them indoors or out to display your event message, welcome guests or for wayfinding. Banners can hang from the ceiling or on a wall. Retractable banner stands make for a perfect portable floor-standing banner option.
Click here to shop banner stands →
---
We hope this quick list of awesome displays helps you design and plan your next event. If you need any help or have any questions regarding any of these displays or about a custom event display, please give us a call or send us an email!
---
Interested in learning more?
Give us a call at 800.697.4670 and speak to a real person, with real experience and knowledge, who can help you with your project.
We would love to hear your voice, but you can also reach us by email at info@beautifuldisplays.com or fill out our information request form.
Your information will not be shared with any third parties.